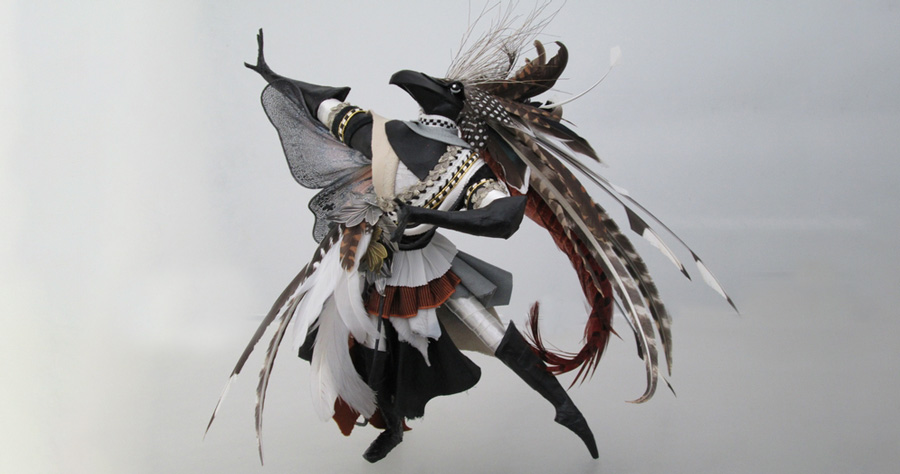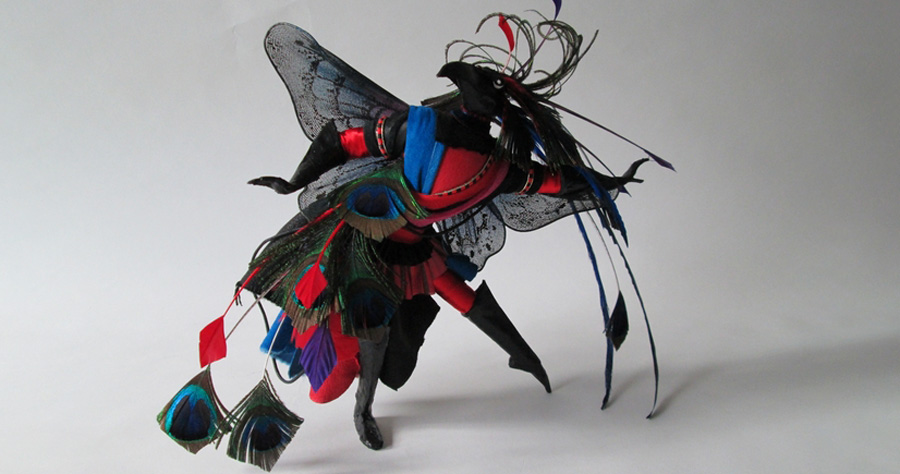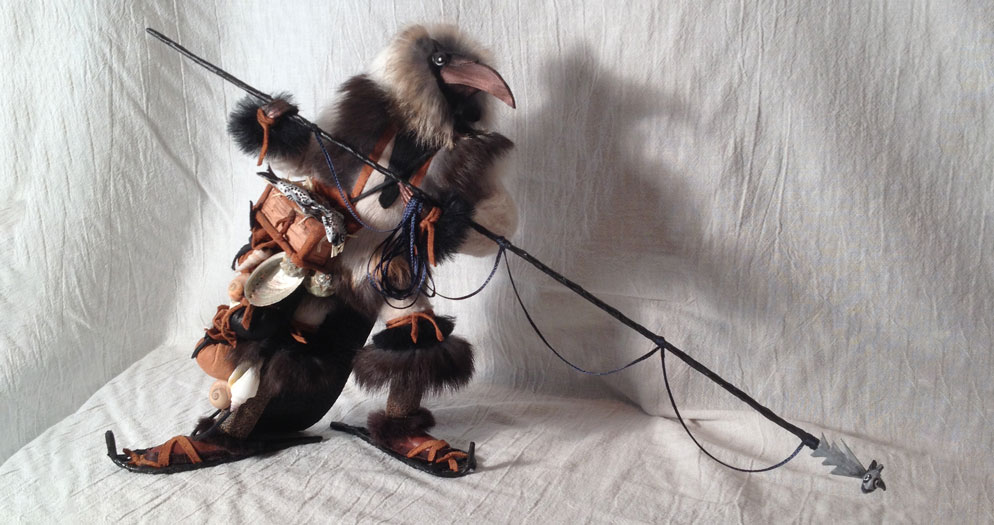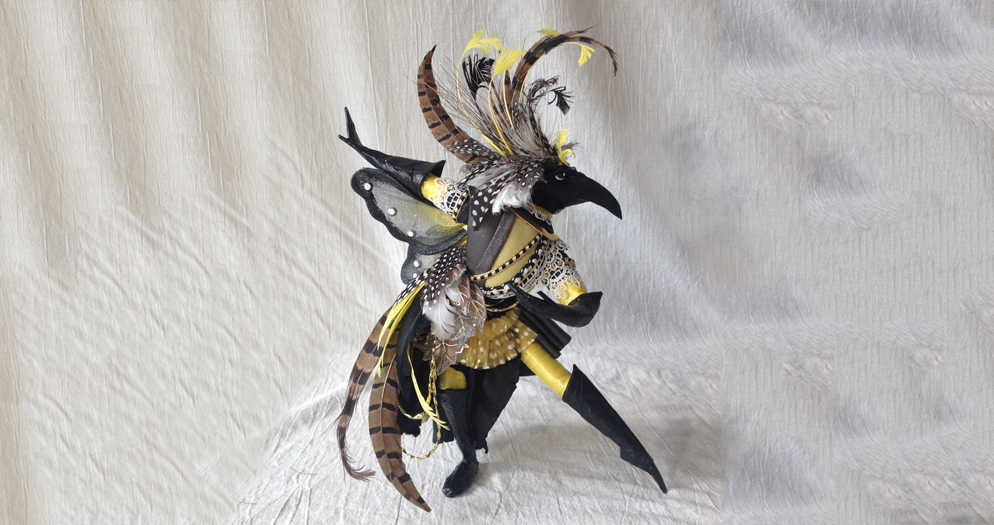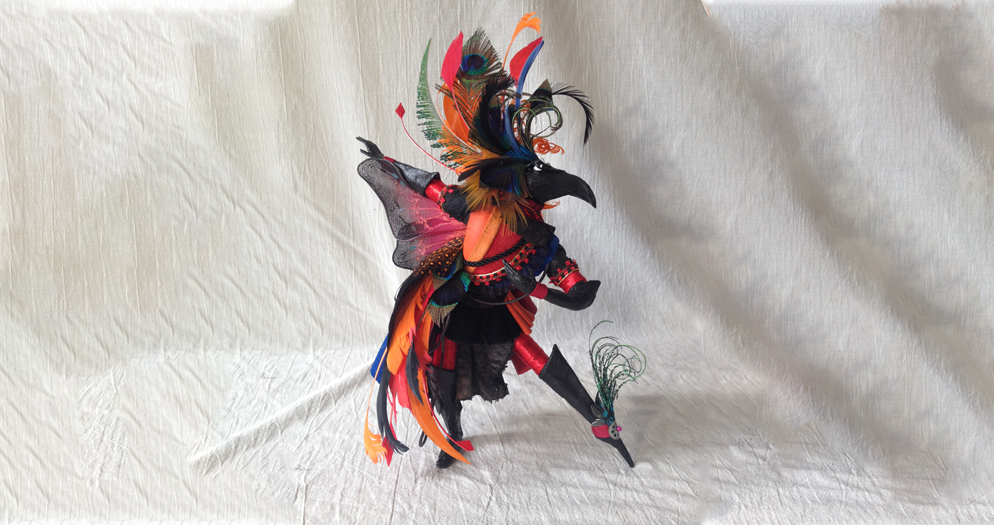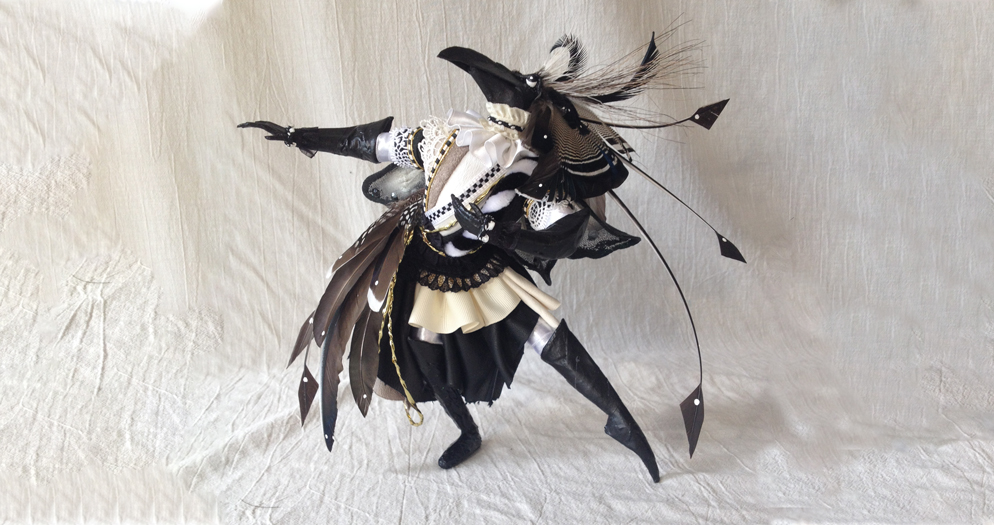 Mocking Bird Original Creations is the brainchild of acclaimed artist Betty Nelson-Daniel.

Mocking Birds originated from a conglomeration of fanciful trimmings collected over a span of ten years.

Each figure is designed from a variety of coloured and textured materials spontaneously placed, creating a completely unique piece each time.

To those who view them, they possess dramatic qualities, mimicking vestiges of human attitudes.
ARTICLE - Dolls that Dance to the Spirirt
by Janet Bonellie
THE FIRST time I saw Betty Nelson-Daniel's Mocking-Birds was at a Toronto trade show that devoted a special section to Ontario arts and crafts. Her figurines/dolls were wonderful and I wasn't the only one who thought so. Crowds spotted her display and came to stayed to marvel. (Mocking-Birds won First Prize for Most Innovative Gallery Product.) Nelson-Daniel is now missed in this venue but business is flourishing and her annual output is usually spoken for.
"This represents about 500 pieces," says Betty, from her home/studio/gallery in Midland, Ontario. "While the onset of the holiday season means producing as many as three-a-day, I want people to know I never use an assistant or apprentice. Each piece is personally executed, signed and dated."
Calling Mocking-Birds "dolls" is a bit of a misnomer although not as much now as when she started in 1983. Then dolls were playthings and even Barbie had yet to become a highly-prized collectib le. However, today lavish dolls are made all over the world and directed to an exclusively adult audience who can appreciate workmanship as well as resulting beauty. Mocking-Birds fit this bill and then some. They're ornaments, little works-of-art, table sculpture, spiritual security blankets. Call them what you will, you don't play with them in the traditional sense.
Several U.S. journalists have translated the name Mocking-Birds as a tongue-in-cheek 'mock' of the human condition. Not true. The origin is simpler than that. A mockingbird is an actual bird (native to the southern states) that's built its reputation on an ability to mimic other species in song and habits to fool and foil predators. It's also a creature with a sense of humour, regularly leading many dedicated naturalists and bird-watchers astray.
Nelson-Daniel's Mocking-Birds go one step further. They imitate humans - mostly ballet dancers - which reflect the artist's own fascination with theatre, movement and fantasy costume design. They pose. They strut. They leap. Their beaked heads (assumed to be the last component to metamorphosize) are always in evidence, while their wing tips (transforming into hands) are often shielded in elaborately-cuffed musketeer gloves. Most also wear soft-soled boots, favourite footwear of the male dancer. Colours and costume materials defy description and come from a wildly imaginative visual sense coupled with carefully-guarded access to scraps of exotic fabrics-and-feathers. Components include antique lace, fine leather and minutely-detailed trimmings from France and ltaly. "There can be as many as 24 different supply sources for a single figure," Betty says.
There's also a slightly sinister quality to these graceful creatures whose dangerous beaks and piercing eyes contrast sharply with their flamboyant pose and dress. Well, haven't balletomanes always found the devious Odile a bit more interesting than Odette, the perpetually putupon virgin? And where's the impact of the traditional fairy tale without a witch or sorcerer?
Of English / Swedish background, NelsonDaniel grew up in Schomberg and began her formal art training in London, Ontario. Her first job was with a Toronto based film and animation studio. Four years later she was creating store display samples for Lewiscraft (with 13 retail locations) and exposure to the company's craft materials set her off on a quest for new techniques and ideas. Soon she was producing silk banners and watercolour panels for retail displays all across North America and, in 1986, her embryonic venture into MockingBirds brought her an invitation from the National Ballet of Canada to create figures complementing the premier performance of "La Belle Epoque."
Requests from the Stratford Shakespeare Festival, the New Orleans Mardi Gras, and private galleries, from as far afield as Bermuda, soon followed. Then came the Pittsburgh Ballet, Boston Ballet, and Toronto's Nutcracker Art & Craft Show. Tiffany's Boston store incorporated Mocking-Birds into that company's award-winning window displays and The Museum of American Folk Art in New York City acquired a MockingBird for a show titled "The Art of the Contemporary Doll" The figure later went into New York's Mariposa Gallery where it was sold to a collector.
Along the way, as Nelson-Daniel's reputation grew, she developed a small celebrity following. The late actor John Candy owned a Mocking-Bird dressed in his Trains, Planes and Automobiles film costume. Karen Kain, Evelyn Hart, Frank Augustine and Toller Cranston became fans.
"I've received touching letters from the private sector as well," says Betty. "There's a woman in Laguna Beach, CA, who has 47 Mocking-Birds in her trailer/home and believes they bring her positive vibrations and spiritual support. There's also a young fellow who bought one with the proceeds of his old paper route and still displays it in his home. Then there's a woman who has a special Mocking-Bird in the cabinet that once showcased The Stanley Cup."
Nelson-Daniel moved from Toronto to Midland, Ontario, a few years ago. She's intensely interested in spiritualism, homeopathy and New Age philosophy, and her Georgian Bay community has easy access to aboriginal informational centres and retreats.
"People think I control the Mocking-Bird image," Betty says. "In fact, I rarely know what the end result will look like until I'm finished. I see each piece as an experiment in learning a little bit more about myself.
"Mocking-Birds is my chosen name for the pieces but the bird is really a raven spiritual conductor between heaven and earth and much revered by our native people. I'm getting involved in the "vision quest" - the practice of physical self-denial (fasting) to open up understanding of one's spiritual capabilities. My present home is a great location for this pursuit. There's a native drumming group in the arena and a newly-formed women's group called Council of Roses where we concentrate on an appreciation of our Earth (both fundamental and abstract)."
Nelson-Daniel doesn't want to be perceived as an eccentric. She's not. She is, in fact, a highly-focussed woman who simply believes natural talent should extend beyond self-indulgence and commercial satisfaction. An astounding number of Mocking- Bird owners have told her that the charming figures give them a sense of peace and a connection to nature's intrinsic mysteries. Add to this the fact that objective spectators, like myself, find her work absolutely and incredibly beautiful.
In addition to ballet figures, called "Standard Mocking-Birds", Nelson-Daniel has produced representations of the Phantom of the Opera, Egyptian gods, Kachina dolls (Hopi Indian dance figures), Japanese Kabuki players and French court figures.
Her surprising final "take" on the subject? "No, I didn't have a parent who exposed me to the ballet and I never took lessons. I just love movement, whether it be dance, ice skating, acrobatics or even swimming. I make a basic figurine and construct it so shoulder, upper torso and waist are articulated and can be pivoted until an unusual pose results. Then I dress the bird. Some end up with butterfly wings. Others have sweeping Bird-of-Paradise plumes on their heads. It just depends on what feels right at the time."
Certain Mocking-Bird poses and colourings become immensely popular but, like my hand-made item, there are slight differences in each bird. Then, like any true collectible artist, Nelson-Daniel will "retire" her creations from time to time. I fell in love with one splendid creature in black and red with Monarch butterfly wings. Unfortunately, it's no longer available. "Proportions change, moods change, and of course my available choices of antique materials change. Mocking-Birds, like ourselves, are constantly evolving. At present, I know I'm about to enter another growth period which I have yet to discover."
If you can't locate Betty's work in a specialty outlet, the artist has a home / gallery at 759 Dominion Avenue, Midland, ON L4R 1S4.
[Picture article inset]

Star Wars Episode I: The Phantom Menace. Queen
Amida la. Custom-made for a gallery in Seattle, WA.

[Picture article inset]

Austin Powers, The Spy Who Shagged Me.
Custom-made for a gallery in Seattle, WA.
Starbuck's coffee chain started in Seattle, hence the
Starbuck's product in the Mocking-Bird's arms.